We are heading back to Weymouth for a weekend - hoping for the excellent 25m vis we enjoyed last year.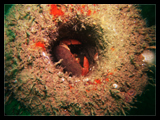 The diving will be done from Scimitar which as those who came along last year will know is a lovely new boat with nice hot pasties for lunch!
We will be offering advanced and speciality courses on these trips. Please contact us for further details.
Click on date to check Availability