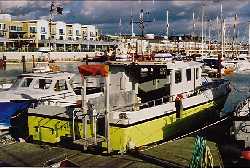 We have another four day trips to Brighton planned for 2007.
We will be using Spartacat again for these dives. For those of you who haven't dived on this boat before Spartacat has a lift to make getting back on board very easy!
The cost of the trip will be £55.
We will be offering advanced and speciality courses on these trips. Please contact us for further details.
Click on date to check Availability